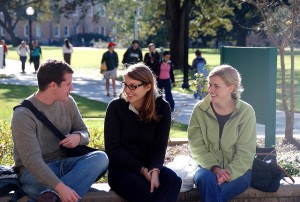 CAAT PEERS® for Teens is a 16-week evidence-based social skills intervention for motivated teens in middle school and high school who are interested in learning ways to make and keep friends. During group sessions, teens learn important social skills through didactic instruction, live demonstrations by trained coaches, and extensive practice via play activities (e.g. playing sports, board games, etc.) while receiving real-time, individualized coaching from our clinical staff.
Parents attend weekly parent sessions, held simultaneously with the client group, where they learn how to assist their teen with making and keeping friends by providing feedback and coaching practiced by weekly socialization homework assignments.                                                    
Topics of Instruction:
How to use appropriate conversational skills
How to find common interests by trading information
How to use humor appropriately
How to enter and exit peer conversations
How to handle rejection, teasing, and bullying
How to be a good host during get-togethers
How to choose appropriate friends
How to be a good sport
How to handle arguments and disagreements
How to deal with peer pressure
How to enroll
The teen program is appropriate for teens ages 13-18. Enrollment is limited. Regular attendance is imperative. Parent/Caregiver participation is required.
Program pre-requisites
Have friendship problems
Teens in middle school or high school
Teens must be interested in attending the program
Application process
Complete the confidential online application.
Upone receiving your application, a member of our staff will call to schedule a brief phone intake with one of our clincians.
After the phone intake, both the teen client and parent/caregiver attend an initial appointment with our clinician and determine if enrollment in the program is appropriate.
Details
Duration:  16 Weeks
Session day & time:  Tuesday Evenings (5:00-6:30 pm)
Location: Due to Covid-19 restrictions, PEERS is currently meeting virtually